One of my current projects involves rebuilding the ePrints repository system to work as a well-structured database for archiving photographs. It's going quite well, but the problem is that I can't really demo it to anyone – the test server has virtually no content. So, any time I have to explain how it'll work, I keep referring them to someone else doing the same sort of thing; the SERPENT project, who're building up quite a nice collection of photographs of deep-sea creatures which have blundered into industrial submersibles.
Which means I occasionally spend a few minutes going, right, I need something to show what thumbnails on a multiple-image record look like, could I use manta rays? Dog sharks? Maybe something novel…
…and then I tripped over this, a Helicocranchia squid.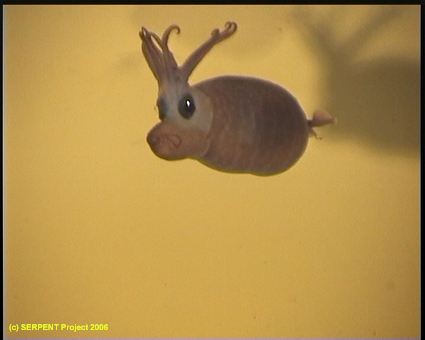 That is, in fact, a "piglet squid" – about 5-10cm long, and as the name suggests, looks like a cheerfully rotund piglet. I'm not sure quite how fads for pets begin, but that sentence sounds like a good attempt.
(More on the piglet squid – and some better photographs – here.)